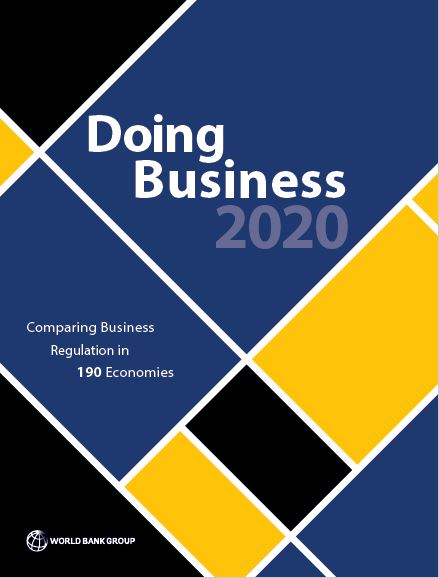 Doing Business 2020, a World Bank Group flagship publication, is the 17th in a series of annual studies measuring the regulations that enhance business activity and those that constrain it. Doing Business presents quantitative indicators on business regulations and the protection of property rights that can be compared across 190 economies – from Afghanistan to Zimbabwe – and over time.
Doing Business covers 12 areas of business regulation. Ten of these areas—starting a business, dealing with construction permits, getting electricity, registering property, getting credit, protecting minority investors, paying taxes, trading across borders, enforcing contracts, and resolving insolvency—are included in the ease of doing business score and ease of doing business ranking. Doing Business also measures regulation on employing workers and contracting with the government, which are not included in the ease of doing business score and ranking.
Serbia implemented regulatory reforms, which resulted in improvement of its ranking from 48th in 2019 to 44th in 2020. Also, Serbia is highlighted as one of forty-two economies with ongoing, broad-based reform program which makes it easier to do business in 3 or more of the 10 topics included in this year's aggregate ease of doing business score. According to the report, Serbia made starting a business more complicated by requiring that entrepreneurs obtain an electronic certificate and register the ultimate beneficial owners separately after incorporation. Serbia strengthened minority investor protections by requiring an external review and immediate disclosure of related-party transactions, clarifying ownership and control structures as well as requiring greater corporate transparency. Finally, Serbia made resolving insolvency easier by requiring creditors to approve the appointment of the insolvency representative and providing them with the right to information on the financial status of the debtor.
Živković Samardžić, one of Serbia's leading law firms is World Bank's local partner on the Doing Business project. Živković Samardžić lawyers who contributed to the Doing Business 2020 report were partners Uroš Đorđević, Ksenija Golubović Filipović, Igor Živkovski and Ana Popović and of counsel Miloš Živković.
You can download the full report here.