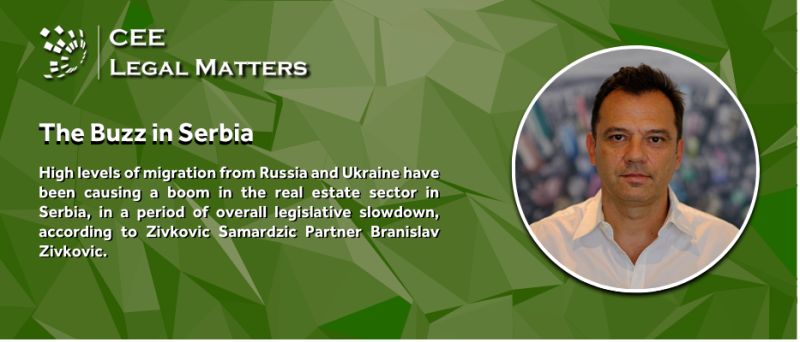 Branislav Živković a founding partner of Živković Samardžić has recently been interviewed for CEE Legal Matters a print and online publication featuring news, interviews, analysis, and opinion in their "The Buzz" section on growing trend relocations, real estate, and fees in Serbia.
In an interview given Branislav believes that the high levels of migration from Russia and Ukraine have been causing a boom in the real estate sector in Serbia, in a period of an overall legislative slowdown.
Following the elections that were held this spring, no government has been formed yet, Živković points out that the process is still within the legal deadlines, but longer – the technical government is still sitting. Therefore, there are no new laws, no new pieces of legislation, except for urgent decrees and he states that since early spring, legislative activity has essentially stopped.
Branislav states that tens of thousands of Russian citizens now seek to emigrate to Serbia – both individuals and legal entities – as well as a smaller number of Ukrainian nationals, because of their peculiar status. He explains that this has generated huge amounts of work, with many family businesses, tech company employees, and the like. Freelances that worked for international companies have begun relocating to Serbia – as there are strong levels of support for the IT sector and tech companies here.
Finally, Branislav reports that Serbia is "soon to finalize" a free trade agreement with China and he explains that this will impact the market for sure, seeing as how tariffs will go down, and we might see an introduction of preferred rates or cancellation of customs duties to agricultural and other exports.
Branislav's wide-ranging experience covers mergers and acquisitions, joint ventures, privatizations, acquisition and corporate finance, transactional tax aspects, complex commercial contracts and real estate and project finance. As one of Živković Samardžić managing partners, he coordinates cross-border transactions and international cooperation within the LGP Legal Solutions Network consisting of independent business law firms covering the Southeast European region. IFLR1000 Financial and Corporate 2022 recognized Branislav as Highly Regarded lawyer in M&A, Real Estate Acquisitions and Real Estate Finance.
Full text of this article is available here.
CEE Legal Matters is a print and online publication for and about lawyers interested and working in Europe's emerging legal markets, featuring news, interviews, analysis, opinion, and more with a mission to be the go-to source of information about lawyers and legal markets in Central and Eastern Europe. You can visit Magazine's website and subscribe here.