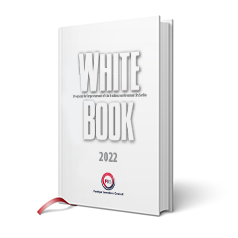 The White Book 2022, a Foreign Investors Council's publication and a proclamation of the private sector on the business climate in Serbia, was presented on November 22, 2022, at the event gathering the highest Government officials, including the Prime Minister Ana Brnabić and representatives of stakeholder community.
Published yearly since 2003, the White Book is a transparent Foreign Investors Council's platform for dialogue with the authorities and a practical set of recommendations to the authorities. Its goal is to enable removing unneeded barriers and make doing business in Serbia easier, thus enabling better inflow of investments and recommendations aimed at improving economic growth and better living standard of Serbian citizens. It is promoted every year in the fourth quarter at the prestigious high-level event.
The Foreign Investors Council is a business association of the leading foreign investors that are present in Serbia. From a group of 14 major foreign investors which founded the association with the support of the OECD in 2002, Foreign Investors Council continues to expand, gathering over 120 members with investments of over EUR 36 billion and more than 100,000 employees in Serbia.
Živković Samardžić is a proud Foreign Investors Council's member, and our lawyers have contributed to the White Book 2022 in front of the Legal, Taxation, Infrastructure & Real Estate Committee. Živković Samardžić Corporate and M&A Partner, Igor Živkovski is the author of the chapter the Law on the Central Register of Temporary Restriction of Rights, Živković Samaržić associate Nataša Sarić wrote about current changes in the tax procedure, as well as improvements and recommendations on how existing tax problems can be solved, while Živković Samardžić associates Nikola Šiljegović and Srdjan Zerdo contributed to White Book 2022 in the section of Mortgages and Real estate financial leasing and Energy Sector.
The White Book 2022 is available for download at the Foreign Investors Council's web site.