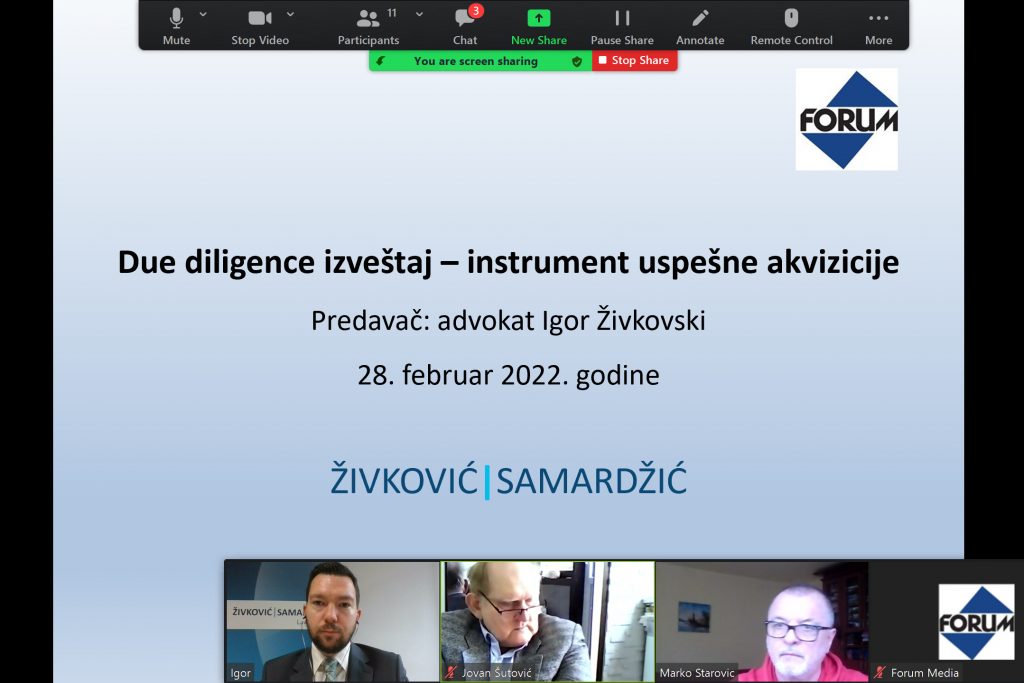 On February 28, 2022, Forum Media, Serbian subsidiary of international publishing company Forum Media Group, hosted a seminar on the topic "Due Diligence Report – Successful Acquisition Instrument".
The seminar consisted of presentation made by Igor Živkovski, Živković Samardžić Corporate and M&A Partner. The presentation focused on all aspects of the legal preparation for mergers and acquisitions, with an explanation of the key concepts and components critical to conducting effective due diligence in M&A transactions. Participants had the opportunity to gain knowledge and understanding of the essential areas to be covered when carrying out due diligence: both from the acquiring and the target company. The seminar included areas of information which must be obtained or disclosed, as well as the most efficient methods of dealing with these disclosures. Participants were actively involved in exercises and discussions, to ensure they gain a solid working understanding of the principles and practices of thorough due diligence projects.
"The result of legal due diligence will help explain the current situation of the business, identify the risks and structure the acquisition. For example, in a share transfer, the buyer inherits the entire company, including all liabilities. If there are substantial risks involved with a company, an asset purchase may be a better way for the purchaser. In this case, the buyer selects only the assets they want and leaves the rest.", outlined Igor Živkovski.
For more information on the topic, please contact Igor at igor.zivkovski@zslaw.rs, or any of your regular contacts at Živković Samardžić.