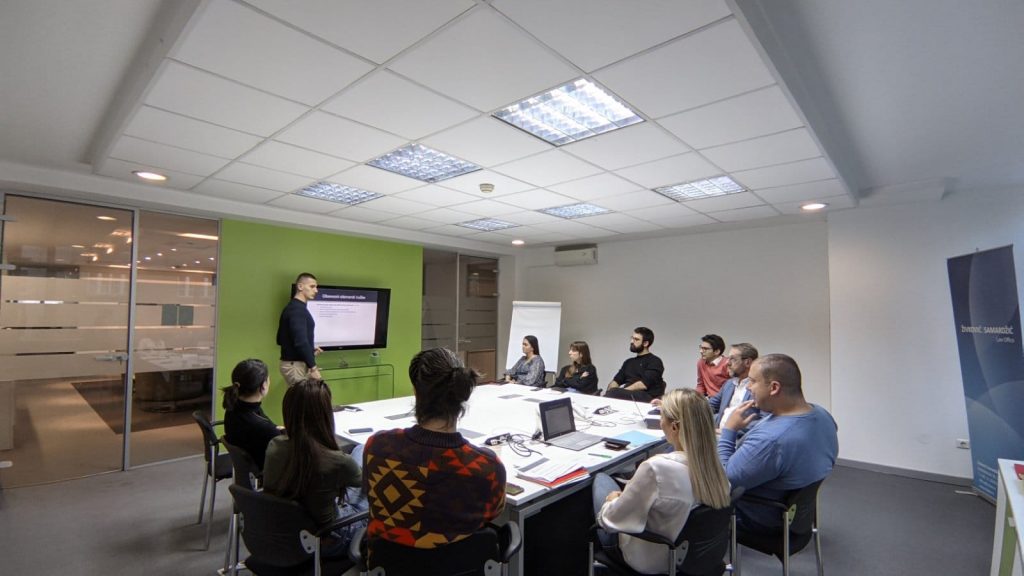 At Živković Samardžić, one of the Serbia's leading full-service independent law firms, we constantly invest in our people and foster an environment where individuals flourish. Each year, we take on a number of trainee attorneys at law and offer them challenging and rewarding work, as well as comprehensive training and an opportunity to work with and learn from the best in business.
Our litigation department organizes internal seminars about civil procedural law in order to interpret legal provisions and exchange experiences in practice. The first seminar on "Lawsuits and behavior of the prosecutor" was held last week and was coordinated by senior partner Milos V. Milosevic, trainee attorneys Maja Milovanovic and Vladan Arsic.
Vladan Arsic spoke about the lawsuit, the mandatory and optional elements of the lawsuit, as well as the identity of the subject of the dispute, while our colleague Maja Milovanovic gave us a closer look at the types of lawsuits as well as litigation actions related to the lawsuit, such as withdrawing/changing the lawsuit, waiving the claim..
The entire presentation was covered by the clear examples that lawyer Milos V. Milosevic gave us from his many years of practice as a judge and as a lawyer and he also indicated on the most common mistakes made in practice.
Presentations were followed with Q&A session, aiming to help our colleagues improve their understanding of civil procedure, refine their litigation skills and prepare for bar exams. Although the practice of law is an independent profession, this is an example of great teamwork.
If that sounds like the kind of environment in which you might thrive, and you believe you're good enough to join our team, contact us at job@zslaw.rs.