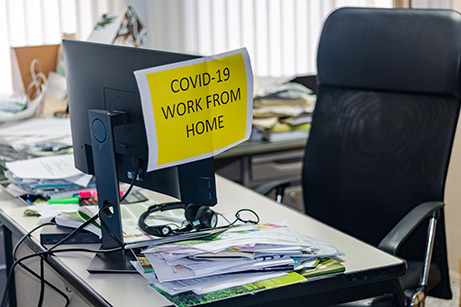 Forum Media Srbija doo, part of Forum Media Group, an international media company offering cutting-edge education and training, hosted a seminar on the ,,Back to office ", with Danka Draško, an attorney at law at Živković Samardžić, as one of the lecturers.
Among other things, Danka pointed out how employers can return employees to the employer's premises and how can stipulate work from home in accordance with the law, which provisions need to be defined by the Rulebook regarding change of place of work, which mandatory elements must be a part of the employment contract i.e. the annex to the employment contract, which measures employer should take to prevent the occurrence and spread of the epidemic, and what are the most common mistakes of employers when it comes to Covid-19 epidemic.
Also, Danka answered current questions from practice, such as whether it is possible to introduce intermittent work from home and work in the employer's premises, whether employer may oblige an employee to vaccinate or ask for data on vaccination, whether an employee may refuse to work if employer did not provide him health and safety at work, and which amount of compensation belongs to an employee who is infected Covid-19.
Danka's presentation was followed by an interactive discussion with the participants.
If you are interested in finding out more or have any questions on the topic, please contact Danka Draško, an attorney at law (danka.drasko@zslaw.rs ) or any of your regular contacts with Živković Samardžić.
---
,,Povratak u kancelarije" seminar sa Dankom Draškom, kao jednim od predavača
Forum Media Srbija doo, deo Forum Media Group, globalne medijske kompanije koja nudi obrazovanje i obuku na najvišem nivou, bila je domaćin seminara na temu "Povratak u kancelarije", sa Dankom Draško, advokatom u našoj kancelariji, kao jednim od predavača.
Između ostalog, Danka je istakla kako poslodavci mogu da vrate zaposlene u prostorije poslodavca i kako mogu da ugovore rad od kuće u skladu sa zakonom, koje odredbe treba definisati Pravilnikom u vezi sa promenom mesta rada, koji obavezni elementi moraju biti deo ugovora o radu, odnosno aneksa ugovora o radu, koje preventivne mere poslodavac treba da preduzme kako bi sprečio pojavu i širenje epidemije, kao i koje su najčešće greške poslodavaca kada je u pitanju epidemija Covid-19.
Takođe, Danka je odgovarala na aktuelna pitanja iz prakse, poput toga da li je moguće uvesti naizmeničan rad od kuće i rad u prostorijama poslodavca, da li poslodavac može da obaveže zaposlenog da se vakciniše ili traži podatke o vakcinaciji, da li zaposleni može da odbije da radi ako mu poslodavac nije obezbedio bezbednost i zdravlje na radu, kao i koji iznos naknade pripada zaposlenom koji je zaražen Covid-19.
Dankino izlaganje je praćeno interaktivnom diskusijom sa učesnicima.
Ako ste zainteresovani da saznate više ili imate pitanja o ovoj temi, kontaktirajte Danku Draško, advokata (danka.drasko@zslaw.rs ) ili bilo koji od vaših redovnih kontakata u Živković Samardžić.