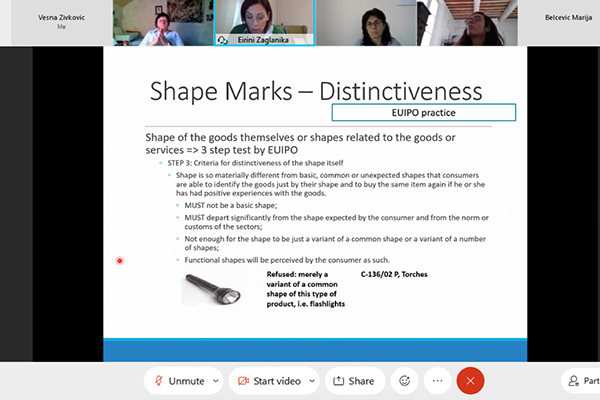 The Ministry of European Integration of the Republic of Serbia, in cooperation with the Intellectual Property Office and the European Institute of Public Administration (EIPA), through the Technical Support Program of the Grand Duchy of Luxembourg "Strengthening the capacity to enforce European Union law", organized a two-day (on 1 and 2 December) webinar.
Webinar participants were able to gain useful insight into EU trademark protection rules, as well as information on current developments in this area. The focus of the webinar was on traditional and contemporary issues, such as the relationship between trademark law and fundamental rights, trademarks and geographical indications, and non-traditional trademarks. The webinar also discussed practical issues, such as proving reputation and notoriety, evidence of the use of trademarks, as well as enforcement issues, which deepened participants' knowledge of this area of ​​law and kept them informed.
Vesna Živković, Živković Samardžić Senior Associate participated in the webinar. She said: "Webinar offered great insight into the EU law on trademarks, as well as in the most prominent case-law on particular trademark issues. It was a pleasure being part of this event."
Vesna Živković joined Živković Samardžić in 2009, after supervising a Department for Regulatory Issues Control of Reputation Risk in an international bank. She was a research assistant at the Institute for Comparative Law and served as a Vice Chairperson of the UN Commission on International Trade Law (UNCITRAL) from July 2006 to July 2007. Vesna lectured on Commercial Contracts at the Union University Faculty of Law in Belgrade. She specialises in financial services, electronic commerce and intellectual property. Vesna is a Sworn Court Interpreter for English language.