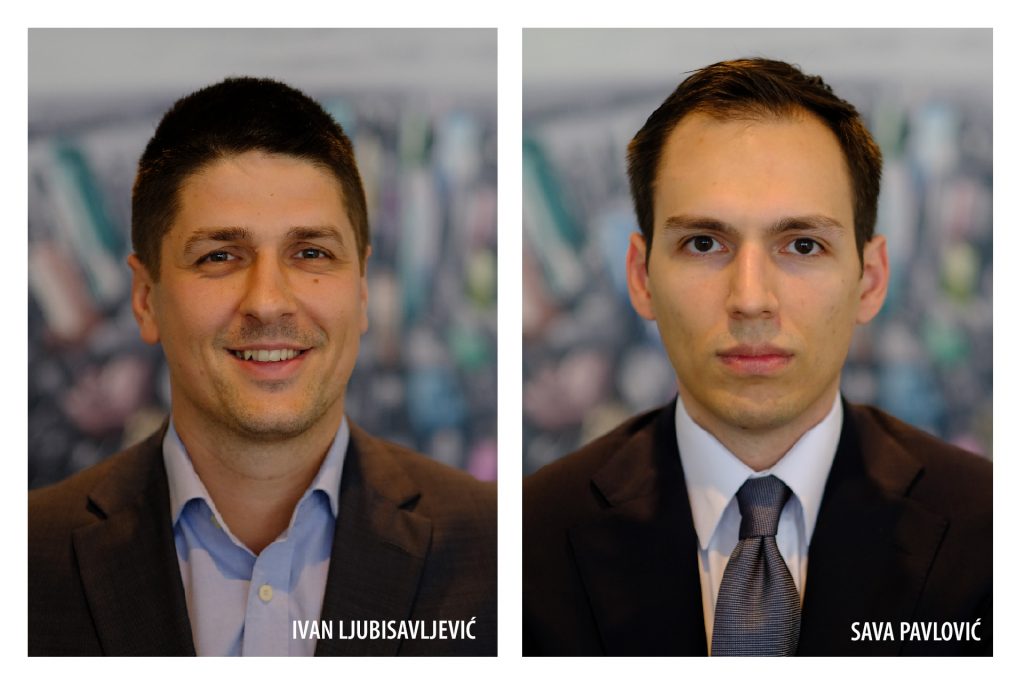 Živković Samardžić, one of the Serbia's leading law firms, announces the promotion of two Partners, effective July 1, 2021. Ivan Ljubisavljević in the Dispute Resolution Department and Sava Pavlović in the Corporate and M&A Department.
"Congratulations to Ivan and Sava on achieving this important milestone in their careers. It is a testament to their commitment to being our trusted advisors to our clients for their most complex and important challenges and opportunities. Together they highlight the quality, diversity and depth of talent that support our strategy and embody the shared and business culture that is at the heart of our firm," said Managing Partner Branislav Živković.
Živković Samardžić is today a successful outfit, the leading law firm on the Serbian market. Nevertheless, we see a lot of potential for improving our processes and structures and becoming even more effective. We are confident that newly promoted Partners shall help us achieve that goal.
Nebojša Samardžić, Senior Partner: "Congratulations to our new partners on their well-deserved promotions and I look forward to watching them progress in new roles as they continue to provide exceptional and innovative solutions for our clients."
Prior to joining Law Office Živković Samardžić in 2016, Ivan Ljubisavljević used to work for several international companies from the financial industry. Ivan is specialized in Dispute Resolution and Regulatory compliance with emphasis on Financial Services sector. Previously, Ivan was an in-house lawyer with the major B2B services provider and later he worked as a legal and compliance officer with the major international insurance company. He graduated at the University of Belgrade, Faculty of Law in 2011. In this newly created role, Ivan will be responsible for the implementation of projects and cases of strategic importance for the firm from the area of civil litigation, banking and finance litigation in particular. Furthermore, his task will be to upgrade the level of external firm reputation in the legal network's and between clients in region.
Sava Pavlović, Corporate and M&A Senior Associate, joined Živković Samardžić in 2013, after graduating at the University of Belgrade Faculty of Law and almost after one-year long apprenticeship in a government's ICT regulatory body. At the beginning with Živković Samardžić, he was advising clients in media, telecom, and advertising industry, and later, Sava joined Živković Samardžić's Corporate and M&A team. Sava's specialization in Corporate, M&A and banking, at one side, and his deep understanding of IT, media, and telecom industries, allows him to deal successfully with a broad range of clients, from startups, media outlets, through investment funds, banks and multinational corporations. In his legal advisory track records, Sava has a broad array of complex domestic and cross-border transactions, including some of the most valuable and complex transactions on the Serbian market in past years. It should not be left unmentioned Sava's very prominent activity in the area of e-commerce – beside providing legal advisory to the clients, Sava is also very active in e-commerce advocacy; since its beginnings, Sava is lecturing at the eCommerce Academy organized by eCommerce Association of Serbia and also, he is taking his part as lecturer at many courses, trainings and workshops in this area. As a member or delegate, he is giving his valuable professional contribution through several professional organizations as well, including Foreign Investors Council (FIC) and Serbian Association of Managers (SAM).
Živković Samardžić strives for a proactive and business-oriented approach to solutions and an impressive ability to pivot and adapt to challenging circumstances, all of which enable us to provide the highest level of customer service. We congratulate our colleagues on their appointment and wish them many new, exciting challenges and the best of luck.