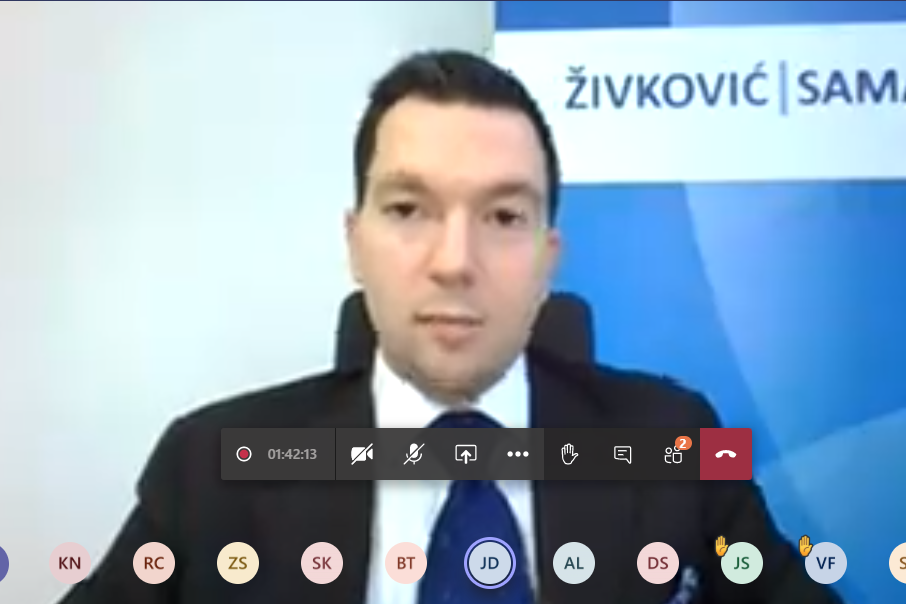 On June 2, 2020, the Foreign Investors Council (FIC) organized online conference "Digitalization in Serbian Regulations: Possibilities and Limitations". The aim of the Conference was to continue a dialogue with the Government on further digitalization in priority issues that will be tackled within the WB Task Force. Igor Živkovski, Živković Samardžić Corporate and M&A Partner, who also serves as the President of the FIC's Legal Committee, was one of the panellists at the Conference.
Conference gathered relevant representatives of the Government – representatives of the Ministry of Justice, Ministry of Finance, Ministry of Labour, Employment, Veterans and Social Affairs, Ministry of Health, National Bank of Serbia, Tax and Customs Administration. On the FIC side, the moderator was the President of the FIC Digitalization Committee, while FIC chairpersons from HR, Legal, Pharma and Tax Committees actively participated in the discussion as panellists. Around 100 participants, representatives of different FIC members, attended the Conference.
On the panel dedicated to judiciary, Igor elaborated on the possibilities of the use of machine learning and artificial intelligence in judiciary, which would lead to the increase of the efficiency of legal system while ensuring the protection of human rights and freedoms. New, innovative ways for gathering and processing data can be used to improve the quality, as well as to reduce the costs of proceedings before public authorities, such as courts and public notaries. With the use of new, developed algorithms of machine learning, more complex tasks, such as dispute resolution, can be completed using a computer. Moreover, machine learning and artificial intelligence could be used to analyse data to predict the outcome of legal/court proceedings. Attorneys would be able to provide better answers for their clients with the use of artificial intelligence which has access to years of trial data. Also, the use of artificial intelligence increases the speed in which disputes are resolved, simultaneously ensuring privacy protection, and avoiding considerable court fees. Artificial intelligence could provide better legal protection to all parties, removing the subjective human factor.
The Agenda of the Conference is available here.