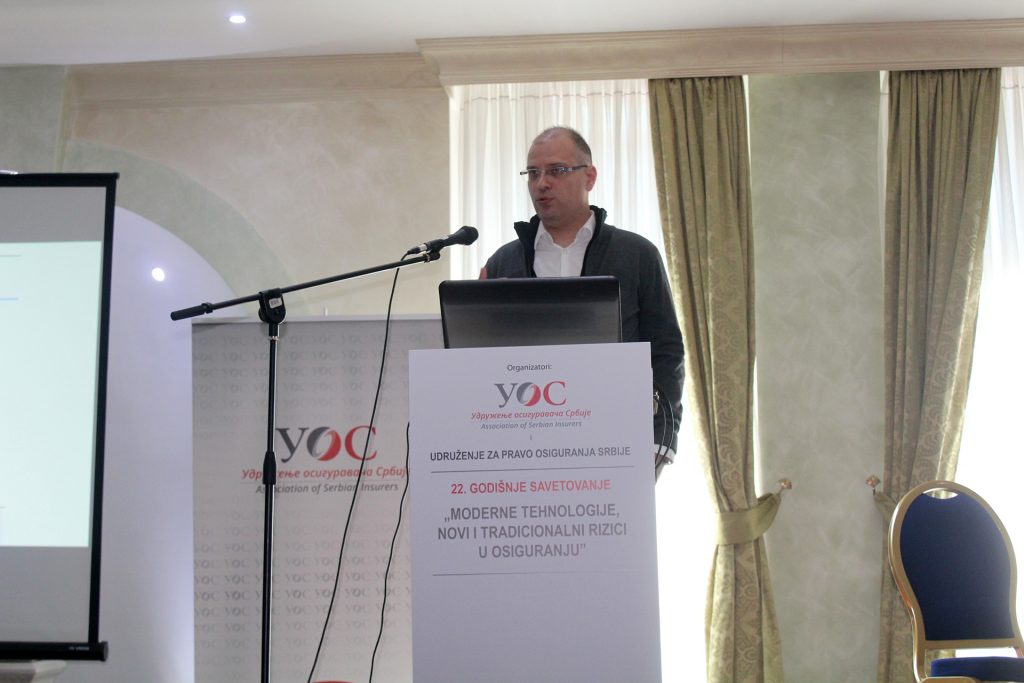 Association of Serbian Insurers (www.uos.rs) and Insurance Law Association of Serbia, National Chapter of International Insurance Law Association – AIDA (www.srbija-aida.org), hosted 22. annual conference on Insurance Law and Regulation – "MODERN TECHNOLOGIES, NEW AND TRADITIONAL RISKS IN INSURANCE".
Our Associate Nikola Filipović was one of the speakers on Panel dedicated to EU legislation and insurers' legal position in modern insurance.
His presentation focused on use of Thematic Reviews in supervision of market conduct and in particular on methodology and findings of EIOPA in their Thematic Review of consumer issues in travel insurance can be found here.
As a reminder following Thematic Review of travel insurance in 2019. EIOPA issued a warning to the insurance industry. EIOPA stated that it expects insurance companies to comply fully with their IDD obligations, and to ensure that ancillary intermediaries who predominantly distribute travel insurance follow market conduct rules. The question of how to ensure compliance of ancillary intermediaries (especially out of scope ancillary intermediaries) proved to be practically the most challenging task for the insurance companies.
EIOPA also in 2020. announced second Thematic review focused on consumer protection issues with mortgage life and other credit protection insurance sold through banks. In the future both EIOPA and NCAs will employ Thematic Reviews with increased frequency in order to identify and assess risks in certain segments of insurance market.
Additionally, of particular interest for all the participants was panel discussion whcih included representatives of the industry and academia on proposed changes in regulation of insurance contract, that is initiative of the Industry and Serbian Association of Insurers to adopt a separate Insurance Contract Law which would provide a modern legal framework for insurance contract in Serbia.
---
Konferencija posvećena pravu osiguranja "MODERNE TEHNOLOGIJE, NOVI I TRADICIONALNI RIZICI U OSIGURANJU"
Udruženje osiguravača Srbije (www.uos.rs) i Udruženje za pravo osiguranja Srbije, Nacionalnia Sekcija Međunarodnog Udruženja za Pravo Osiguranja – AIDA (www.srbija-aida.org), organizovali su 22. godišnju konferenciju posvećenu pravu osiguranja – "MODERNE TEHNOLOGIJE, NOVI I TRADICIONALNI RIZICI U OSIGURANJU."
Naš saradnik Nikola FIlipović bio je govornik na okruglom stolu posvećenom pravnom položaju osiguravača i propisima EU. U okviru ovog panela izložio je rad na temu primene Tematskih Izveštaja u procesu nadzora nad poslovanjem u skladu sa pravilima tržišnog ponašanja. Prezentaciju možete pogledati ovde.
Podsećanja radi, Evropska Agencija za Nadzor Osiguranja I Penzionih Fondova (EIOPA) sprovela je prvo tematsko istraživanje u sektoru putnog osiguranja 2019. godine, nakon čega je objavljen Tematski Izveštaj i zvanično upozorenje industriji osiguranja. Zbog uočenih pojedinih praksi prilikom distribucije putnog osiguranja, osiguravajuća društava su upozorena na svoje obaveze iz Direktive o distribuciji osiguranja. Naročito delikatno i kompleksno pitanje za osiguravajuća društva ispostavilo se pitanje poslovanja tzv. sporednih posrednika osiguranja (ancillary insurance intermediaries), preko kojih se putna osiguranja uglavnom distribuiraju.
EIOPA je u toku 2020. Godine najavila da će se posvetiti i drugom tematskom izveštaju u kojem će analizirati pravna pitanja u vezi sa prodajom osiguranja kredita i nepokretnosti preko banaka u sklopu hipotekarnih kreditnih poslova sa stanovništvom.
Tematski Izveštaji će se kako od strane EIOPA tako i od strane nacionalnih nadzornih organa sve češće koristiti da se ocene trenutni ali i potencijalni potrošački rizici u pojedinim segmentima tržišta osiguranja. Stoga su metodologija i indikatori korišćeni u prvom tematskoj izveštaju značajan podatak za osiguravajuća društva.
Osim toga, naročitu pažnju učesnika privukla je panel diskusija u kojoj su učestvovali predstavnici industrije osiguranja i predstavnici naučne tj. akademske zajednice, a koja je bila posvećena mogućim izmenama u oblasti ugovornog prava osiguranja, odnosno razmatranju predloga (i nacrta Zakona) kojim bi se ugovoru o osiguranju izdvojio i regulisao posebnim propiso, kao poseban zakon koji bi implementirao moderna rešenja u ovu oblast u Republici Srbiji. Ova inicijativa potekla je od Udruženja osiguravača Srbije.