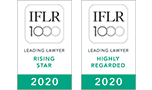 IFLR1000 Financial and Corporate 2020 directory has once again ranked Živković Samardžić, one of Serbia's leading law firms, for its financial and corporate practice as well as recognized Branislav Živković as Highly Regarded lawyer in M&A, Real Estate Acquisitions and Real Estate Finance, Miloš Milošević as Highly Regarded lawyer in Restructuring and Insolvency and Igor Živkovski as Rising Star in Corporate and M&A practice areas in Serbia.
Directory, released by International Financial Law Review, the market-leading financial publication for lawyers specialising in international finance in financial institutions, corporates and private practice, feature tiered rankings of the financial and corporate law firms and lawyers, recognized by their peers and clients to be the leading figures in their specialist areas, in more than 120 jurisdictions across the globe. The editorial for Serbia is available here.
Branislav Živković has been practicing law since 1988 and is a founding partner of Živković Samardžić. His wide-ranging experience covers mergers and acquisitions, joint ventures, privatizations, acquisition and corporate finance, transactional tax aspects, complex commercial contracts and real estate and project finance.
Miloš Milošević joined Živković Samardžić in 2010. He graduated at the University of Belgrade Faculty of Law in 1995 and spent 15 years in the judiciary, as a judicial clerk at the Commercial Court in Belgrade and the Supreme Court of Serbia, Judge at the Fourth Municipal Court in Belgrade and a Civil Law Appellate Chamber Judge at the District Court in Belgrade.
Igor Živkovski graduated at the University of Belgrade Faculty of Law in 2010 and has been with Živković Samardžić since 2013, after six-month internship at the United Nations International Criminal Tribunal for the former Yugoslavia in The Hague and two years with another reputable law firm in Belgrade.