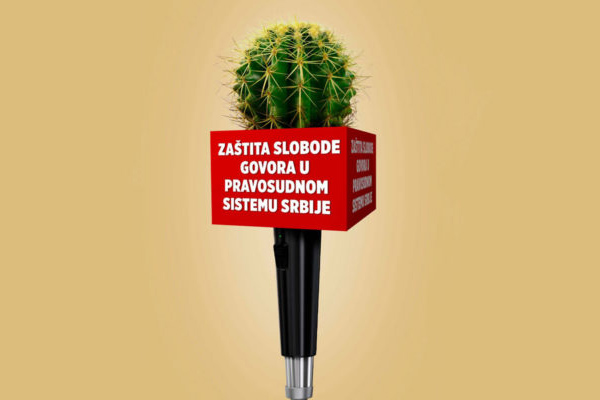 The Slavko Ćuruvija Foundation and the Center for Judicial Research (CEPRIS) presented an analysis of the research in which every tenth reported case of threats and attacks on journalists ends with a final court verdict. Concurrently, disputes in the media in cases of hate speech, protection of minors, ensuring the dignity of victims of violence and protection of honor and reputations last on average about two years, despite the urgency provided by the Law on Public Information and Media. The length of this procedure makes it impossible to protect prosecutors or defendants.
The report "Protection of Freedom of Speech in the Judicial System of Serbia" includes an analysis of 305 cases in so-called media disputes in the period 2017-2019. When it comes to criminal protection of journalists from threats and attacks, in the period 2017-2020, 20 legally terminated proceedings were identified and analyzed. Prosecution data on reported threats and attacks on journalists were also collected.
The analysis showed that the courts tend to impose milder criminal sanctions: out of 20 criminal verdicts, only one prison sentence was imposed, which had to be served in the Administration for the Execution of Institutional Sanctions for a period of six months. The most severe sentence was one year of house arrest, without electronic surveillance. Probation was imposed in eight cases. Of the total number of proceedings, nine ended in a plea agreement and four in acquittals or decisions rejecting or dismissing the indictment.
Kruna's contribution to the analysis is on the issue of Criminal Protection of Journalists and Media Workers – Court Proceedings for the Protection of Journalists. Besides Kruna, the authors of the analysis are also the President of the Center for Judicial Research and the former President of the Supreme Court of Serbia Vida Petrović Škero, Natasa Jovanović and lawyer Relja Radović.
Full text of the article is available here.
Kruna is with Živković Samardžić since 2008. She specializes in Media Law and Intellectual Property. From the very beginning of her professional career, Kruna Savović has actively contributed to the initiatives advocating the struggle for a better society through participation in various humanitarian, cultural, philanthropic and socially-responsible campaigns and projects. Kruna is a trusted advisor to a number of national broadcast, print and on-line media and their associations. She is also an experienced media and intellectual property litigator. During her career, as Head Živković Samardžić Media Litigation practice, she led and participates in media strategy projects and was responsible for the implementation of the cases connected to Technology, Media and Telecommunications.
---
Kruna Savović jedna je od autora analize "Zaštita slobode govora u pravosudnom sistemu Srbije"
Fondacija Slavko Ćuruvija i Centar za pravosudna istraživanja (CEPRIS), predstavili su analizu istraživanja u kome tek svaki deseti prijavljeni slučaj pretnji i napada na novinare završava pravnosnažnom sudskom presudom. Istovremeno, medijski sporovi u slučajevima govora mržnje, zaštite maloletnih lica, obezbeđivanja dostojanstva žrtava nasilja i zaštite časti i ugleda u proseku traju oko dve godine, i pored hitnosti predviđene Zakonom o javnom informisanju i medijima. Dužina trajanja ovih postupaka onemogućava zaštitu tužilaca ili tuženih.
Izveštaj "Zaštita slobode govora u pravosudnom sistemu Srbije" obuhvata analizu 305 predmeta u tzv. medijskim sporovima u periodu 2017‒2019. godine. Kada je reč o krivičnopravnoj zaštiti novinara od pretnji i napada, u periodu 2017–2020. godine, identifikovano je i analizirano 20 pravnosnažno okončanih postupaka. Prikupljeni su i podaci tužilaštva o prijavljenim pretnjama i napadima na novinare.
Analiza je pokazala da sudovi imaju tendenciju da izriču blage krivične sankcije: od 20 krivičnih presuda, izrečena je samo jedna kazna zatvora koja je trebalo da bude izdržana u Zavodu za izvršenje krivičnih sankcija, i to u trajanju od šest meseci. Najstroža izrečena kazna bila je kazna kućnog zatvora u trajanju od godinu dana, ali bez elektronskog nadzora. U osam slučajeva izrečena je uslovna osuda. Od ukupnog broja postupaka, devet je okončano sporazumom o priznanju krivičnog dela, a četiri oslobađajućim presudama ili odlukama kojima se optužni akt odbija ili odbacuje.
Krunin doprinos analizi je po pitanju Krivičnopravne zaštite novinara i medijskih radnika – Sudski postupci za zaštitu novinara. Pored Krune, autori analize su takođe predsednica centra za pravosudna istraživanja i bivša predsednica Vrhovnog suda Srbije Vida Petrović Škero, Nataša Jovanović i advokat Relja Radović.
Kompletan tekst analize možete pronaći ovde.
Kruna je sa Živković Samardžić od 2008. godine. Specijalizovana je za medijsko pravo i intelektualnu svojinu. Od samog početaka profesionalne karijere, Kruna Savović je aktivno učestvovala u inicijativama zagovarajući borbu za bolje društvo kroz učešće u raznim humanitarnim, kulturnim, filantropskim i društveno odgovornim kampanjama i projektima. Kruna je pouzdani savetnik za brojne nacionalne radio-difuzne, štampane i on-line medije i njihova udruženja. Takođe ima iskustva u parnicama za medije i intelektualnu svojinu. Tokom svoje karijere, kao rukovodilac odeljenja za medijske sporova, vodila je i učestvuje u projektima vezanim za donošenje i implementaciju medijske strategije i bila odgovorna za vođenje slučajeva iz oblasti tehnologije, medija i telekomunikacija.