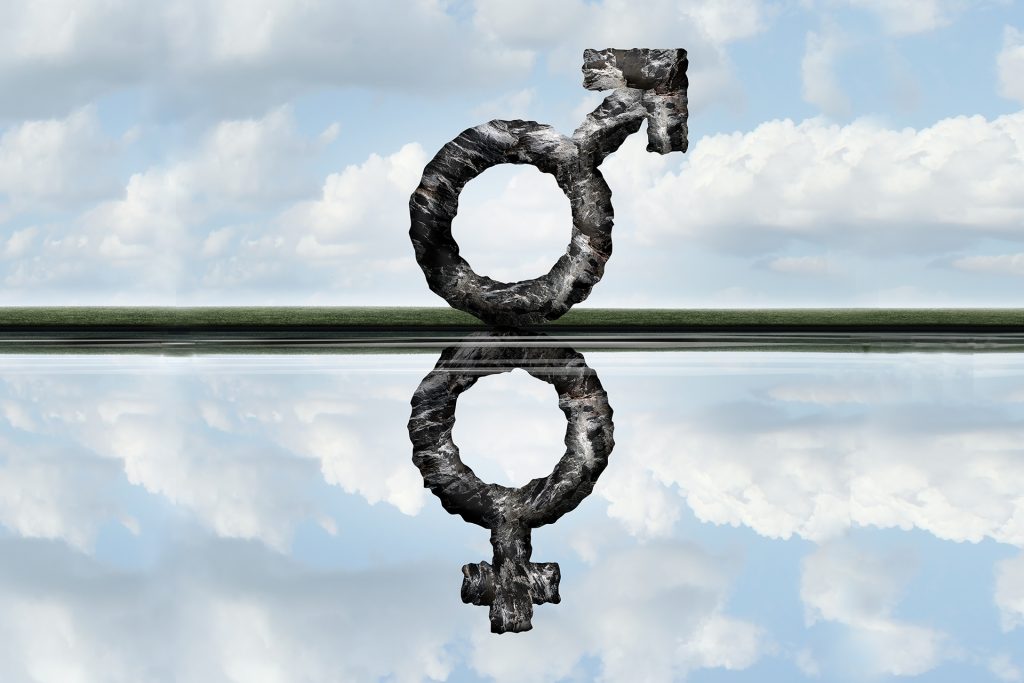 The National Assembly of the Republic of Serbia is implementing a Gender Equality Law. The implementation of this law implies that the previous Law of Gender Equality seizes to be valid.
Gender equality law determines own enforcement quite widely, confirming that gender equality implies equal rights, responsibilities, and opportunities, equal participation, and balanced representation of women and men in all areas of social life, equal opportunities for the exercise of rights and freedom, use of personal knowledge and abilities for personal development and development of society, equal opportunities and rights in access to goods and services, and also achieving equal benefits from work results, with respect for biological, social, and culturally formed differences between men and women and different interests, the needs and priorities of women and men in making public and other policies and deciding on rights, obligations, and law-based provisions, as well as constitutional provisions.
A provision that speaks about the realization of equal benefits from the results of work is very important because the purpose of the provision is to overcome differences by enabling women the same earnings for the same job as men. The importance of this provision can be understood if we take a look at official statistics that show there is a salary gap in the Republic of Serbia, where women earn on average 8.8% less than men (Republic Statistical Office). This provision relies on the principle of non-discrimination which is prescribed not only by this law but also by the Constitution of the Republic of Serbia (Official Gazette of the RS, No. 98 of November 10, 2006), and all in the purpose of achieving social well-being by ensuring a legally equal position of men and women.
Article 5 of this law mentions and imposes gender-responsive budgeting, confirming the importance of gender-equal earnings, which is planned and in line with the goals of the new law, prescribes the obligation for public authorities to perform gender budget analysis and to plan revenues and expenditures with the aim of promoting gender equality in accordance with the law governing the budget system and the principle of gender equality in the budget procedure.
Also, this law explicitly states that the provision of this law can't be interpreted or applied in a way that revokes or restricts the rights established by other regulations, especially the ones established by the Constitution, ratified by international contracts, generally accepted rules of international law, laws, as well as European Union legislation relating to gender equality, which is very important because the new law additionally strengthens the already prescribed guarantees with the previously mentioned legal acts, especially the one determined by the highest legal act in the Republic of Serbia and the Gender Equality Law pays the most attention to discrimination based on sex and gender, emphasizing many spheres of social life, economy, politics, sports, etc.
The Law prescribes general and special measures for achieving and promoting gender equality which ensures equal participation and representation of women and men in all spheres of social life and equal opportunities to exercise rights and freedoms, and the public authorities and employers have the obligation to implement everything prescribed, bearing in mind the need to eliminate gender inequality and to make this law a more effective tool than the previous law, which did not achieve the purpose for which it was enacted.
The Law defines the concept of discrimination on the basis of sex and gender and thus concretized the Law of Prohibition of Discrimination ("Official Gazette of RS" No. 22/2009 and 52/2021) which established a general obligation to prohibit all forms of discrimination, while the Labor Law ("Official Gazette of RS", No. 24/2005, 61/2005, 54/2009, 32/2013, 75/2014, 13/2017 – US decision, 113/2017 and 95/2018 – authentic interpretation) also prescribes the prohibition of unequal treatment of employees in employment rights.
Exactly in the field of labor relations, we see the most changes, one of which is very important because it values unpaid work at home, adjusting the modern lifestyle with the need to valorize the less visible implied and unpaid, whereby a person that is not insured on any other basis, acquires the right to health insurance on the basis of unpaid work at home (running a household, taking care or raising children, taking care of other family members), unpaid work on agricultural property, etc.
The employer and the public authority are obliged to provide employees or other employed persons, regardless of gender, sex, and family status, with equal opportunities in relation with the exercise of employment rights and on the basis of work, or other types of employment, in accordance with the law governing work with the employer, or public authorities. In several places, the law imposes an obligation on public authorities and employers to pay due attention to ensuring the equality of persons from vulnerable social groups, justifying inequality in certain situations, in those in which it is necessary to protect vulnerable groups.
The legislator introduces a new term – sexual blackmail, and the law itself confirms the previously prescribed prohibition of harassment, sexual harassment at work or in connection with work based on sex and gender which consists of employers, employees, and other employees towards other employees. With this, the legislator respects the general fact, recognizes it, and strictly forbids it, which, we believe, will greatly protect women, who are also most often victims of sexual blackmail.
Gender-based harassment and sexual harassment are prohibited not only in the workplace but also in terms of employment, professional development, and promotion.
Furthermore, the new law notes, also accompanying the previous regulation, that dismissal or termination of employment by the employer or public authority is prohibited, as well as declaring the employee redundant based on sex, or gender, pregnancy, maternity leave or leave of absence for child care and absence from work for special child care, as well as for the initiated proceeding for protection against discrimination, harassment, sexual harassment and sexual blackmail, which is especially important considering how much pressure women suffer after returning from an absence due to pregnancy and child care, certainly without neglecting other reasons and grounds for protection.
In that sense, it is forbidden to transfer an employee who is on leave due to pregnancy, maternity leave, leave from work for child care and leave from work for special child care, to other jobs or referral to work with another employer, if it is less favorable for the employee unless it is done in accordance with the findings of the competent health authority or due to organizational changes for the employer, which were made in accordance with the law.
The employer is obliged to return the employee to the same or another equivalent job upon returning from leave due to pregnancy, maternity leave, leave for child care, leave for special child care, adoption, foster care, or guardianship.
It is especially important to notice that an employer has an obligation to strive for equal gender representation in its bodies, striving to ensure that the number of men and women is equal in supervisory and management bodies while respecting the specifics arising from the nature of work.
A similar provision is contained in Article 8 of the Law on Ratification of the International Labor Organization Convention no. 183 on maternity protection which stipulates that dismissal of a woman from work during pregnancy, maternity leave, leave for child care, or in the period after her return to work prescribed by domestic law or regulations is considered illegal, except for reasons unrelated to pregnancy, childbirth and breastfeeding as its consequence. The burden of proving that the reasons for dismissal have nothing to do with pregnancy, childbirth and breastfeeding is borne by the employer.
Upon expiration of maternity leave, a woman has the right to return to the same job or to a suitable job with the same salary.
Employers with more than 50 employees are obliged to implement special measures for achieving and promoting gender equality by informing the ministry in charge of human rights by submitting excerpts from the plan and program that was intended for the implementation of the mentioned obligations.
Public authorities that have more than 50 employees and employed persons are obliged to appoint a person in charge of gender equality from among their employees in accordance with their legal acts about internal organization and systematization of jobs. The public authority, or employer responsible for the implementation of activities determined by the Action Plan of this Law is obliged to submit a report on the implemented activities to the Ministry by January 31 of the current year for the previous year.
This way, as well as by the imposed obligation on employers to compile annual reports on gender equality, employers are pressured to implement this law diligently, improve the state of human rights and gender equality, thus creating a favorable climate that equality isn't only a term to strive for but the real basis of the legal system and the common good of all citizens of the Republic of Serbia.
If you have any questions or need additional information, please contact Živković Samardžić at office@zslaw.rs, or any of regular contacts at Živković Samardžić.
---
Zakon o Rodnoj Ravnopravnosti
Skupština Republike Srbije je usvojila Zakon o rodnoj ravnopravnosti ("Službeni glasnik RS", br. 52 оd 24. maja 2021) čijim stupanjem na snagu prestaje da važi Zakon o ravnopravnosti polova ("Službeni glasnik, br. 104 оd 16. decembra 2009.)
Zakon o rodnoj ravnopravnosti određuje polje svoje primene veoma široko, potvrđujući da rodna ravnopravnost podrazumeva jednaka prava, odgovornost i mogućnosti, ravnomerno učešće i uravnoteženu zastupljenost žena i muškaraca u svim oblastima društvenog života, jednake mogućnosti za ostvarivanje prava i sloboda, korišćenje ličnih znanja i sposobnosti za lični razvoj i razvoj društva, jednake mogućnosti i prava u pristupu robama i uslugama, kao i ostvarivanje jednake koristi od rezultata rada, uz uvažavanje bioloških, društvenih i kulturološki formiranih razlika između muškaraca i žena i različitih interesa, potreba i prioriteta žena i muškaraca prilikom donošenja javnih i drugih politika i odlučivanja o pravima, obavezama i na zakonu zasnovanim odredbama, kao i ustavnim odredbama.
Odredba koja govori o ostvarivanju jednake koristi od rezultata rada je veoma važna jer joj je cilj prevazilaženje razlika uz omogućavanje ženama jednaku zaradu za isti posao kao i muškarcima. Važnost ovakve odredbe možemo shvatiti ukoliko pogledamo zvanični statistički podatak koji govori da u Republici Srbiji postoji jaz kada je u pitanju isplata zarade, pri čemu žene zarađuju u proseku 8,8%  manje od muškaraca (Republički zavod za statistiku). Pomenuta odredba se oslanja na načelo zabrane diskriminacije koje je propisano ne samo ovim zakonom već i Ustavom Republike Srbije (Službeni glasnik RS, broj 98 od 10. novembra 2006.), a sve u cilju dostizanja društvenog blagostanja osiguravanjem zakonski jednakog položaja muškaraca i žena.
Član 5 ovog zakona spominje i propisuje rodno odgovorno budžetiranje, potvrđujući značaj rodno ravnopravnih zarada,čime se planski i u skladu sa ciljevima novog zakona, propisuje obaveza organima javne vlasti da vrše rodnu analizu budžeta i da prihode i rashode planiraju sa ciljem unapređenja rodne ravnopravnosti u skladu sa zakonom kojim se uređuje budžetski sistem i princip rodne ravnopravnosti u budžetskom postupku.
Takođe, Zakon izričito navodi da se odredbe ovog zakona ne mogu tumačiti niti primenjivati na način kojim se ukidaju ili ograničavaju prava utvrđena drugim propisima, naročito ona utvrđena Ustavom, potvrđenim međunarodnim ugovorima, opšteprihvaćenim pravilima međunarodnog prava, zakona, kao i zakonodavstva Evropske unije koja se odnose na rodnu ravnopravnost, što je veoma važno jer se novim zakonom dodatno osnažuju već propisane garancije prethodno navedenim pravnim aktima, posebno ona utvrđena najvišim pravnim aktom u Republici Srbiji, a Zakon o rodnoj ravnopravnosti najviše pažnje pridaje diskriminaciji na osnovu pola i roda ističući mnoge sfere društvenog života, ekonomiju, politiku, sport, itd.
Zakon propisuje opšte i posebne mere za ostvarivanje i unapređivanje rodne ravnopravnosti čime se obezbeđuje ravnopravno učešće i zastupljenost žena i muškaraca u svim sferama društvenog života i jednake mogućnosti za ostvarivanje prava i sloboda, a na javnim vlastima i na poslodavcima je obaveza da sve propisano sprovedu u delo, imajući na umu potrebu da se otkloni rodna neravnopravnost i da ovaj zakon postane efikasnije sredstvo od prethodnog zakona, koji nije ostvario svrhu zbog koje je donet.
Zakon određuje pojam diskriminacije na osnovu pola i roda i time konkretizuje Zakon o zabrani diskriminacije (Sl. glasnik RS", br. 22/2009 i 52/2021) koji ustanovljava opštu obavezu zabrane svih oblika diskriminacije, dok Zakon o radu ("Sl. glasnik RS", br. 24/2005, 61/2005, 54/2009, 32/2013, 75/2014, 13/2017 – odluka US, 113/2017 i 95/2018 – autentično tumačenje) takođe propisuje zabranu nejednakog postupanja prema zaposlenima u pravima iz radnog odnosa.
Upravo u oblasti radnih odnosa uočavamo najviše promena, a jedna od njih je posebno važna jer vrednuje neplaćeni rad kod kuće, usklađujući potrebu modernog načina življenja sa potrebom da se ono manje vidljivo i (do skoro) podrazumevajuće i neplaćeno – uvaži, čime lice koje nije zdravstveno osigurano po bilo kom drugom osnovu, stiče pravo na zdravstveno osiguranje po osnovu neplaćenog rada u kući (vođenje domaćinstva, staranje o podizanju dece, staranje o ostalim članovima porodice), neplaćenog rada na poljoprivrednom imanju i dr.
Poslodavac i organ javne vlasti je dužan da zaposlenima, odnosno drugim radno angažovanim licima, bez obzira na pol, odnosno rod i porodični status, obezbedi jednake mogućnosti u vezi sa ostvarivanjem prava iz radnog odnosa i po osnovu rada, odnosno drugih vidova radnog angažovanja, u skladu sa zakonom kojim se uređuje rad kod poslodavca, odnosno organa javne vlasti.
Na nekoliko mesta zakon nameće obavezu organima javne vlasti i poslodavcima da posvete dužnu pažnju obezbeđivanju ravnopravnosti lica iz osetljivih društvenih grupa, opravdavajući nejednakost u određenim situacijama, onim u kojima je neophodno zaštititi osetljive grupe stanovništva.

Zakonodavac uvodi novi pojam – seksualno ucenjivanje, a sam zakon potvrđuje prethodno propisanu zabranu uznemiravanja, seksualnog uznemiravanja na radu ili u vezi sa radom na osnovu pola i roda koju čine poslodavci, zaposleni i druga radno angažovana lica prema drugim zaposlenima ili drugim radno angažovanim licima. Ovim zakonodavac uvažava opštu činjenicu, prepoznaje je i strogo zabranjuje, čime će, verujemo, umnogome biti zaštićene žene, koje su najčešće i žrtve seksualnog ucenjivanja.
Uznemiravanje na osnovu pola i seksualno uznemiravanje zabranjeni su ne samo na radnom mestu, već i prilikom zapošljavanja, stručnog usavršavanja i napredovanja.
Takođe, novi zakon napominje, takođe prateći prethodni propis, da je zabranjen otkaz, odnosno raskid radnog odnosa od strane poslodavca, odnosno organa javne vlasti, kao i proglašavanje zaposlenog za višak na osnovu pola, odnosno roda, trudnoće, porodiljskog odsustva ili odsustva sa rada radi nege deteta i odsustva sa rada radi posebne nege deteta, kao i zbog pokrenutog postupka za zaštitu od diskriminacije, uznemiravanja, seksualnog uznemiravanja i seksualnog ucenjivanja, što je posebno važno znajući koliki pritisak trpe žene nakon povratka sa odsustva zbog trudnoće i nege deteta, svakako ne zanemarujući ostale razloge i osnove za zaštitu.
U tom smislu zabranjen je premeštaj zaposlene koja je na odsustvu sa rada zbog trudnoće, na porodiljskom odsustvu, odsustvu sa rada radi nege deteta i odsustvu sa rada radi posebne nege deteta, na druge poslove ili upućivanje na rad kod drugog poslodavca, ukoliko je to za zaposlenu nepovoljnije, osim ako to nije učinjeno u skladu sa nalazom nadležnog zdravstvenog organa ili zbog organizacionih promena kod poslodavca, koji su izvršeni u skladu sa zakonom.
Poslodavac je dužan da zaposlenog po povratku sa odsustva sa rada zbog trudnoće, porodiljskog odsustva, odsustva radi nege deteta, odsustva radi posebne nege deteta, usvojenja, hraniteljstva, starateljstva, vrati na iste ili druge ekvivalentne poslove.
Slična odredba je sadržana i u članu 8 Zakona o potvrđivanju Konvencije Međunarodne organizacije rada br. 183 o zaštiti materinstva kojim je propisano da otpuštanje žene sa posla za vreme trudnoće, porodiljskog odsustva, odsustva radi nege deteta, ili u periodu nakon njenog povratka na posao propisanog domaćim zakonom ili propisima smatra se nezakonitim, osim iz razloga koji nemaju veze sa trudnoćom, porođajem i dojenjem kao njegovom posledicom. Teret dokazivanja da razlozi za otpuštanje nemaju veze sa trudnoćom, porođajem i dojenjem snosi poslodavac.
Po isteku porodiljskog odsustva, žena ima pravo da se vrati na isto radno mesto ili na odgovarajuće radno mesto sa istom platom.
Posebno je važno da je obaveza poslodavca da u svojim organima mora težiti ravnopravnoj zastupljenosti polova trudeći se da broj muškaraca i žena bude podjednak u nadzornim i upravljačkim organima, uz uvažavanje specifičnosti koje proizlaze iz prirode posla.
Poslodavcima koji imaju više od 50 zaposlenih je nametnuta obaveza da sprovode posebne mere za ostvarivanje i unapređenje rodne ravnopravnosti obaveštavajući ministarstvo nadležno za ljudska prava dostavljajući izvode iz plana i programa koji je bio namenjen za sprovođenje pomenutih obaveza.
Organi javne vlasti koji imaju više od 50 zaposlenih i radno angažovanih lica, dužni su da iz reda svojih zaposlenih odrede lice zaduženo za rodnu ravnopravnost u skladu sa svojim aktom o unutrašnjem uređenju i sistematizaciji radnih mesta. Organ javne vlasti, odnosno poslodavac odgovoran za realizaciju aktivnosti utvrđenih Akcionim planom ovog zakona dužan je da do 31. januara tekuće godine za prethodnu godinu dostavi Ministarstvu izveštaj o realizovanim aktivnostima.
Na ovaj način, a takođe i nametnutom obavezom poslodavcima da sačinjavaju jednogodišnje izveštaje o ostvarivanju rodne ravnopravnosti, vrši se pritisak na poslodavce da ovaj zakon revnosno sprovode, unapređuju stanje ljudskih prava i rodne ravnopravnosti, čime se stvara pogodna klima da jednakost i ravnopravnost ne budu samo termini kojima se teži, već stvarna podloga pravnom sistemu i opštem dobru svih građana Republike Srbije.
Ukoliko imate bilo kakvih pitanja ili su Vam potrebne dodatne informacije možete se obratiti na mejl: office@zslaw.rs ili Vašem redovnom kontaktu u kancelariji.