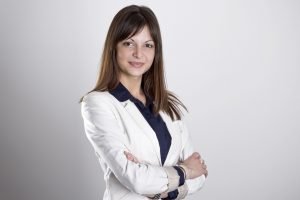 Živković Samardžić, one of the Serbia's leading law firms, today announced the promotion of Ana Popović to Senior Associate in the Employment Department, effective January 1, 2017.
"The senior associate role is one part of a wider drive to invest in our people across the business, by recognising their dedication and contribution to our growth," said Managing Partner Branislav Živković.
"We are keeping our focus on developing and attracting talent. In addition to Ana's promotion, five lawyers were promoted to associates, four of them our former trainees. We also continue to take on new trainees, taking on eight this year," said Senior Partner Nebojša Samardžić.
Ana Popović, Employment Senior Associate, joined Živković Samardžić in 2012,  after graduating at the University of Belgrade Faculty of Law in 2011. She specialises in Employment and Immigration Law and Employment Litigation and is a member of the Employment Law Alliance (ELA), the world's largest network of labor, employment and immigration lawyers. Moreover, Ana is an experienced family lawyer and will keep providing services on family law issues to Živković Samardžić private clientele.