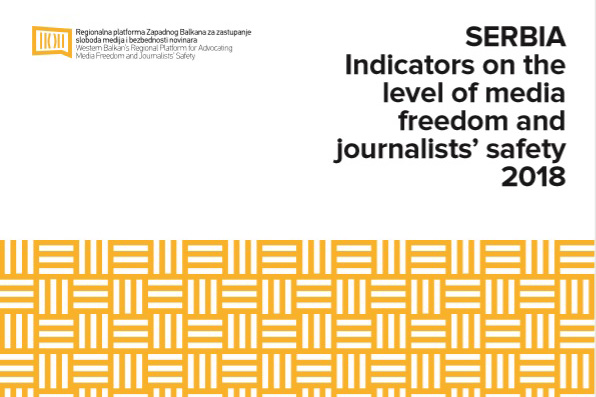 Kruna Savović contributed to publication: Indicators on the level of media freedom and journalists' safety 2018, which was issued in the framework Western Balkan's Regional Platform for Advocating Media Freedom and Journalists' Safety
Regional Platform for Advocating Media Freedom and Journalists' Safety is a network of journalist associations and media trade unions in Western Balkans countries established in January 2016 with the financial support of the European Union and within the EU Support to Regional Thematic Networks of Civil Society Organisations Program. A special purpose of the Regional Platform's operation is the exchange of know-how, experience and information between 6 journalist associations and media trade unions, since they are recognized in their own communities as active and responsible defenders of journalists' rights, which now can invest a part of their resources to meet regional needs and solve challenges the media community in the Western Balkans is facing. The principal project coordinator is the Independent Journalists' Association of Serbia (Serbian abbreviation – NUNS).
Kruna Savović, Živković Samardžić Technology, Media, and Telecommunications Partner and the Head of Media Litigation actively participated in this publication, the purpose of which is to draw attention to the main indicators for establishing a strong and effective mechanism for protecting and advocating the freedom of speech, journalists' rights and safety, as well as creating a democratic environment for media work in Western Balkans countries, in accordance with EU standards and recommendations.
NUNS has developed this project in cooperation with four journalist associations from the Western Balkans – Association of BH journalists (Bosnia and Herzegovina), Croatian Journalist's Association (Croatia), Association of Journalists of Macedonia (Macedonia) and Association of Journalists of Kosovo (Kosovo) and one trade union –Trade Union of Media of Montenegro.