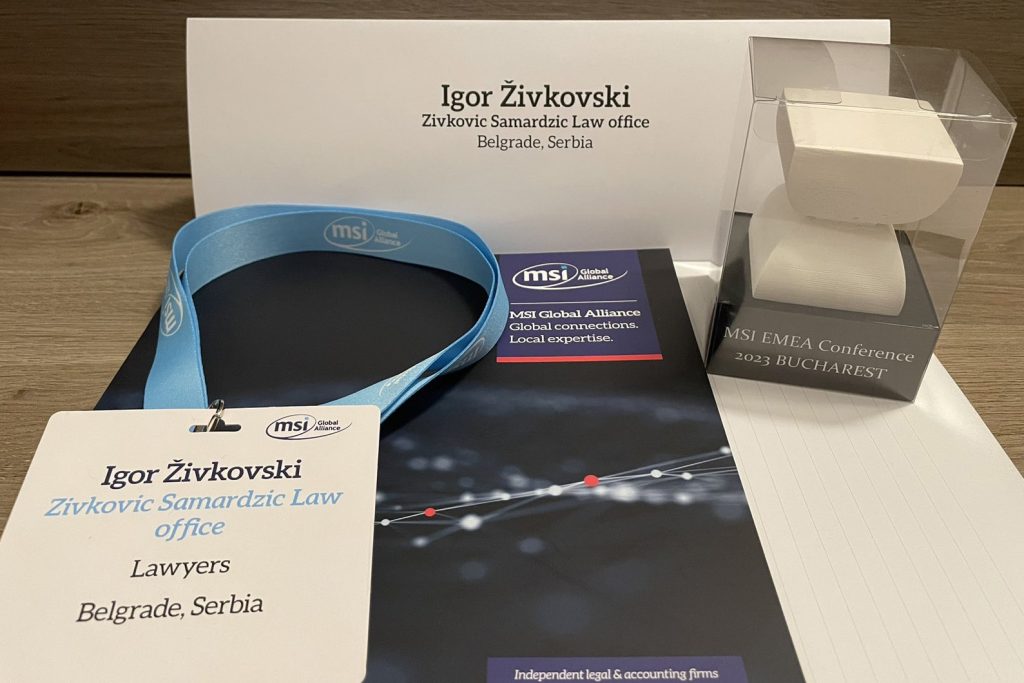 MSI Global Alliance, one of the world's leading international associations of independent legal and accounting firms with over 250 member firms in more than 100 countries, successfully organized EMEA Regional Conference in Bucharest hosted by its local member firms Contabilul Tau and LTJ & Partners.
More than 130 delegates from 40 countries participated in the conference. Part of the conference was dedicated to the presentation of new members and new attendees as well as background of their firms. Igor Živkovski, Živković Samardžić Corporate and M&A Partner, presented our law office, as the first and only appointed MSI Global Alliance law member firm based in Serbia.
Some of the highlights of the conference include: an enlightening presentation and interactive workshop with emotional intelligence expert Ricardo Cabete who explored practical emotional intelligence strategies to reach high performance and deal with change in a positive way, an engaging speech by the anthropologist Alec Balasescu who talked about a conducting business in an ever-changing environment, a panel discussion on creating a more diverse firm and initiatives to involve the next generation of talent, and an interactive MSI member firm panel on navigating and managing the next phase of your firm's growth.
MSI conference was also an opportunity to hear and participate in very interesting topics such as Mergers and Acquisitions, Private Clients and Estate Planning, Audit and Accounting, International Tax, VAT and Indirect taxes, etc.
As one of Serbia's leading full-service law firms, we at Živković Samardžić Law Office believe in the importance of staying up-to-date with the latest developments and trends in the industries we serve, and attending events like this, which allows us to deepen our understanding of our markets and how we can better serve our clients. Being close to the clients' business is the key to providing the best possible service is something both MSI Global Alliance: Lawyers & Accountants and Živković Samardžić Law Office strongly believe in. Sharing the same core values as MSI Global Alliance: Lawyers & Accountants makes us confident that our future cooperation shall be very successful to all parties involved.
MSI was formed in 1990 in response to the growing need for cross-border co-operation between professional services firms. All MSI accounting, legal and advisory member firms are able to deliver multidisciplinary solutions tailored to unique needs, providing the full range of services from accounting, audit, assurance, tax, legal to advisory. Member firms can provide support wherever clients choose to do their business.
Živković Samardžić was represented at the MSI Conference by Igor Živkovski, Živković Samardžić Corporate and M&A Partner.