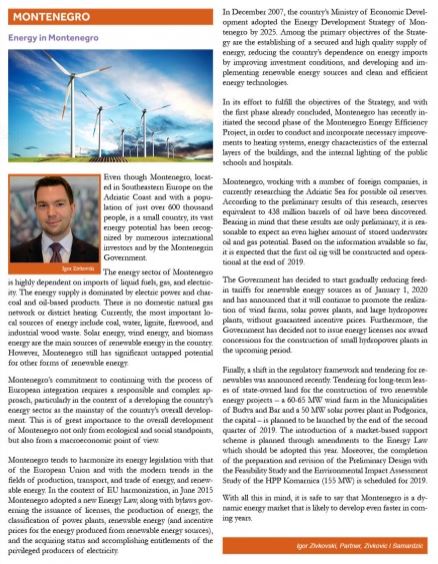 Igor Živkovski, Živković Samardžić Corporate and M&A Partner, wrote an article on energy in Montenegro, which was published in the CEE Legal Matters magazine's May issue.
In the article, Igor stated that the energy sector of Montenegro is highly dependent on imports of liquid fuels, gas, and electricity, while the energy supply is dominated by electric power and charcoal and oil-based products. There is no domestic natural gas network or district heating. On the other hand, solar energy, wind energy, and biomass energy are the main sources of renewable energy in the country. However, Montenegro still has significant untapped potential for other forms of renewable energy.
When it comes to the regulatory framework, since Montenegro tends to harmonize its energy legislation with that of the European Union, in June 2015 the country adopted a new Energy Law, along with bylaws governing the issuance of licenses, the production of energy, classification of power plants, renewable energy (and incentive prices for the energy produced from renewable energy sources), and the acquiring status and accomplishing entitlements of the privileged producers of electricity. Earlier, the country's Ministry of Economic Development adopted the Energy Development Strategy of Montenegro by 2025.
The Montenegrin Government has decided to start gradually reducing feed-in tariffs for renewable energy sources as of January 1, 2020 and announced that it will continue to promote the realization of wind farms, solar power plants, and large hydropower plants, without guaranteed incentive prices. Furthermore, the Government has decided not to issue energy licenses in the upcoming period, nor award concessions for the construction of small hydropower plants.
Montenegro, working with a number of foreign companies, is currently researching the Adriatic Sea for possible oil exploitation and according to the preliminary results of this research, reserves equivalent to 438 million barrels of oil have been discovered.
Finally, with all this in mind and especially with a shift in the regulatory framework and tendering for renewables which was announced recently, Igor concluded that it is safe to say that Montenegro is currently a dynamic energy market that is likely to develop even faster in coming years.
Full text of the article is available here.
CEE Legal Matters is a print and online publication for and about lawyers interested and working in Europe's emerging legal markets, featuring news, interviews, analysis, opinion, and more with a mission to be the go-to source of information about lawyers and legal markets in Central and Eastern Europe. You can visit Magazine's website and subscribe here.
This Article was originally published in Issue 6.4 of the CEE Legal Matters Magazine here.