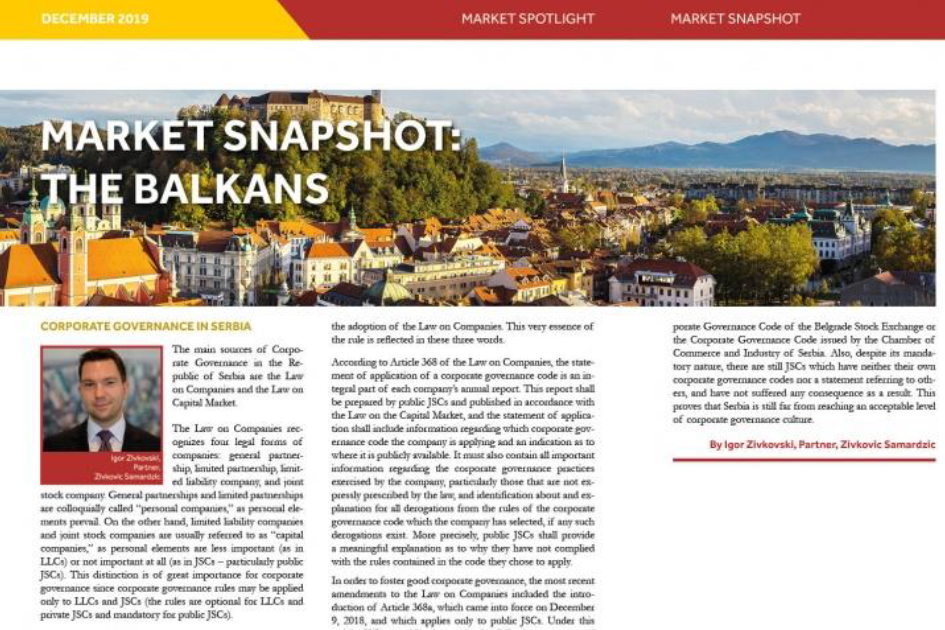 Igor Živkovski, Živković Samardžić Corporate and M&A Partner, wrote an article on Corporate Governance in Serbia, which was published in the CEE Legal Matters magazine's December issue.
In the article, Igor stated that the main sources of Corporate Governance in the Republic of Serbia are the Law on Companies and the Law on Capital Market. The Law on Companies recognizes four legal forms of companies: general partnership, limited partnership, limited liability company and joint stock company. General partnerships and limited partnerships are colloquially called "personal companies", as personal elements prevail. On the other hand, limited liability companies and joint stock companies are usually referred to as "capital companies", as personal elements are less important (as in LLCs) or not important at all (as in JSCs – particularly public JSCs). This distinction is of great importance for Corporate Governance since corporate governance rules may be applied only to LLCs and JSCs (the rules are optional for LLCs and private JSCs – they are mandatory only for public JSCs).
Corporate governance rules are usually collected and systematized in an instrument of self-regulation called a corporate governance code. Two such codes are particularly important in Serbia. The first is the Corporate Governance Code issued by the Belgrade Stock Exchange, which applies only to listed companies (public JSCs, in other words). The other is the Corporate Governance Code issued by the Chamber of Commerce and Industry of Serbia that is intended for all "capital companies". The number of JSCs which have adopted their own corporate governance codes is quite modest and these companies are usually among the largest in Serbia (for example, Naftna industra Srbije a.d. Novi Sad) and the majority of JSCs relies either on the corporate governance code of the Belgrade Stock Exchange or the corporate governance code issued by the Chamber of Commerce and Industry of Serbia.
Igor concluded that, despite its mandatory nature, there are still JSCs which have neither their own corporate governance codes nor a statement referring to others, and have not suffered any consequence as a result. This proves that Serbia is still far from reaching an acceptable level of corporate governance culture.
Full text of the article is available here.
CEE Legal Matters is a print and online publication for and about lawyers interested and working in Europe's emerging legal markets, featuring news, interviews, analysis, opinion, and more with a mission to be the go-to source of information about lawyers and legal markets in Central and Eastern Europe. You can visit Magazine's website and subscribe here.
This Article was originally published in Issue 6.11. of the CEE Legal Matters Magazine.