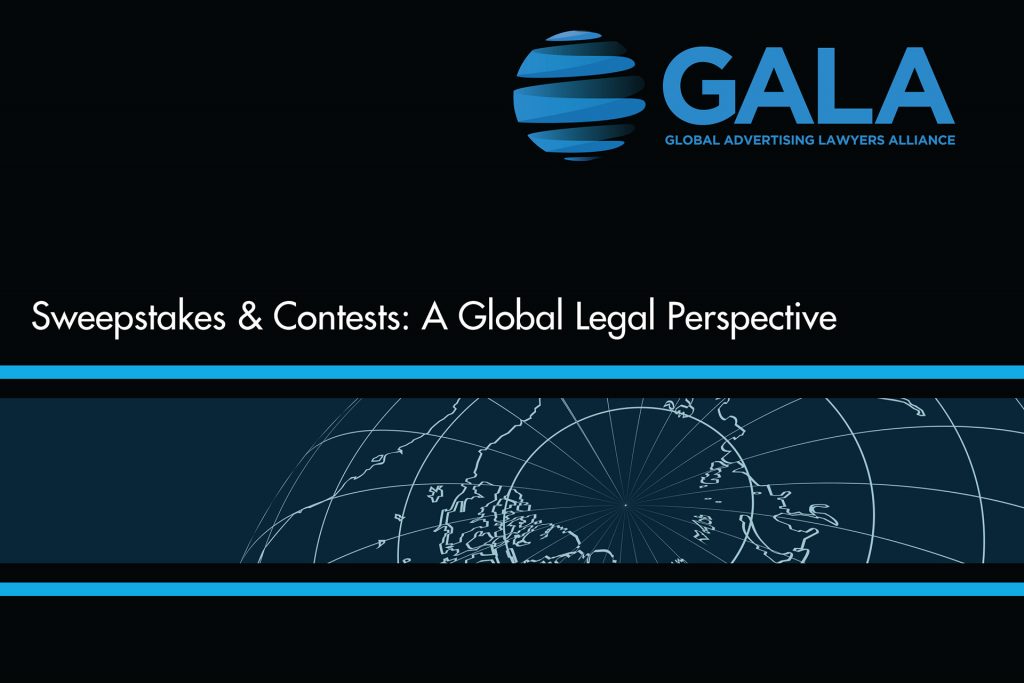 The Global Advertising Lawyers Alliance ("GALA") on Novembar 3, 2021 announces the publication of the second edition of Sweepstakes & Contests: A Global Legal Perspective. The book provides a detailed overview of the laws governing sweepstakes and contests in more than 70 countries around the world, from Argentina to Zimbabwe.
In addition to updating existing chapters to take into account legal developments since the last time the book was published, the 500 page book includes coverage for 17 additional countries, including Bosnia & Herzegovina, Cyprus, Egypt, El Salvador, Estonia, Ghana, Guatemala, Honduras, Kenya, Latvia, Lithuania, Nigeria, Romania, Serbia, Trinidad & Tobago, the United Arab Emirates, and Zimbabwe. Organized by country, each chapter summarizes how sweepstakes and contests are regulated in that country, providing detailed information on country-specific rules, filing requirements, prizes, tax liabilities, and important cases.
The chapter on Serbia was prepared by Slobodan Kremenjak, Živković Samardžić Media, Technology and Telecommunications Partner and Milica Nešić, Živković Samardžić Media, Technology and Telecommunications Associates. Živković Samardžić, one of the Serbia's leading full-service independent law firms offering extensive in-depth experience of advising businesses across a range of industry sectors, including advertising, marketing and communications industry, has joined GALA as an exclusive law firm member from Serbia in 2016.
"We are thrilled to publish the definitive guide to conducting sweepstakes and contests around the world," said Jeffrey A. Greenbaum, the Chairman of GALA and Managing Partner of Frankfurt Kurnit Klein & Selz in New York. "We hope that this book continues to be an invaluable resource to marketers as they market to consumers globally.
Hard copies of the book are available for purchase on Amazon.com. Pdf versions are also available, for free, by contacting GALA.  GALA offers a unique library of guides to advertising around the world, which also includes Advertising Law:  A Global Legal Perspective, Ambush Marketing:  A Global Legal Perspective, Privacy Law:  A Global Legal Perspective on Data Protection Relating to Advertising and Marketing, and Social Media:  A Global Legal Perspective.
---
ABOUT GALA
www.galalaw.com 

With firms representing more than 90 countries, each GALA member has the local expertise and experience in advertising, marketing and promotion law that will help your campaign achieve its objectives, and navigate the legal minefield successfully. GALA is a uniquely sensitive global resource whose members maintain frequent contact with each other to maximize the effectiveness of their collaborative efforts for their shared clients. GALA provides the premier worldwide resource to advertisers and agencies seeking solutions to problems involving the complex legal issues affecting today's marketplace.