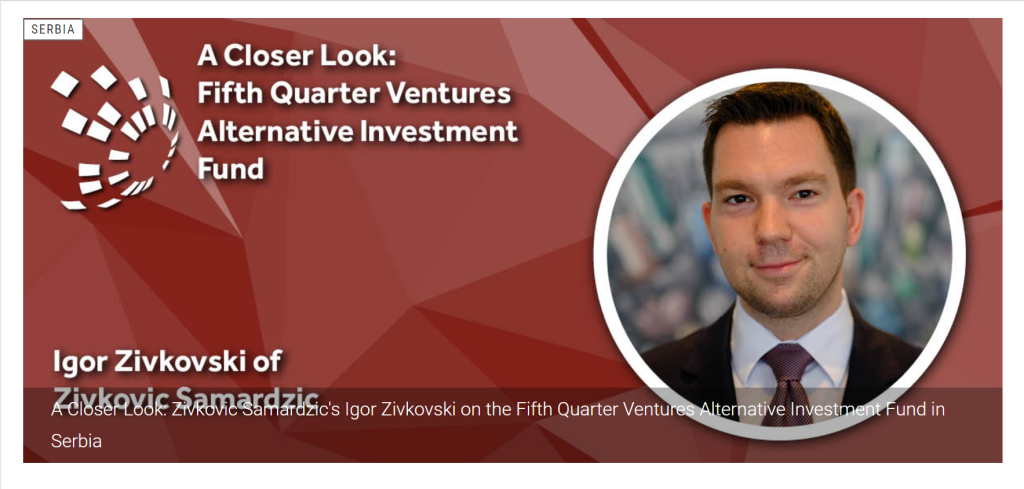 CEE Legal Matters reached out to Živković Samardžić's Corporate and M&A Partner Igor Živkovski to learn more about the firm's involvement in Fifth Quarter Ventures (FQV) transformation into an alternative investment fund in Serbia.
In the interview, Igor reported that Živković Samardžić's team consisting of Partner Sava Pavlović, Associate Ana Grebo and himself, has been involved in this project from the very beginning and it continues to support FQV in all aspects of establishing and developing the fourth alternative investment fund in the Republic of Serbia.
"We are very glad to be a part of this project, having in mind that the evolution and growth of the investment funds in Serbia have been a hot topic in recent years, and its regulatory development has been long awaited by the entire Serbian capital market. Although this is a challenging procedure, we are very proud to be one of the first law firms in Serbia to gain first-hand experience in this area and we are delighted that FQV has put their trust in our team."
If you are interested to have a closer look into the procedure of the establishment of the alternative investment fund in Serbia, you can read the full interview published on the CEE Legal Matters website.
CEE Legal Matters is a print and online publication for and about lawyers interested and working in Europe's emerging legal markets, featuring news, interviews, analysis, opinion, and more with a mission to be the go-to source of information about lawyers and legal markets in Central and Eastern Europe.