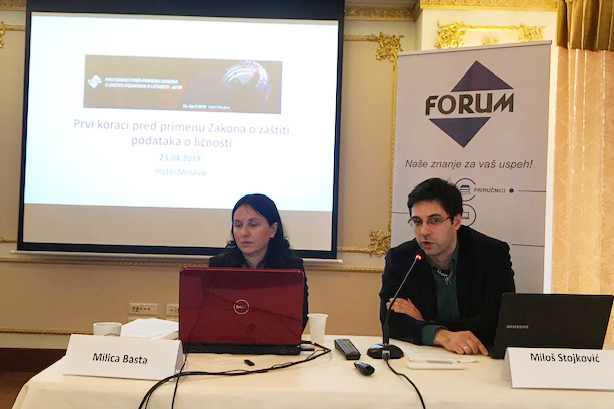 Workshop, organized by Forum media in hotel Moscow this week, gathered more than 100 participants from of distinguished companies operating on the domestic market.
What would be the novelties of New Data Protection Law which are brought into the regular business? Steps towards alignment with legal provisions? Mechanisms of protection, penal provisions, compensation of damage, etc were just some of the questions on which answered panelists during the whole day workshop.
In interaction with the audience, Miloš opened the topics related to the application of new Data Protection Law in specific situations (physical and technical security and supervision of facilities) and in specific industries (pharmaceuticals and telecommunications in particular). "Some industries are in very tricky situation, considering that some of their obligations prescribed by specific laws, could be completely contrary to the standards set in the Data Protection Law. Therefore, we could have strange situation that fulfillment of the sectoral regulation could push the controllers to the breach of Data Protection Law – the controllers could "pay the price" for the internal inconsistency of laws – seems unfair?!?", explained Miloš Stojković.
For more info on this topic, while waiting for the new Data Protection Law and what employers should expect after August 21? as well about domestic laws and general data protection regulations please contact Miloš Stojković, Senior Associate and Head of Digital at Živković Samardžić law office.