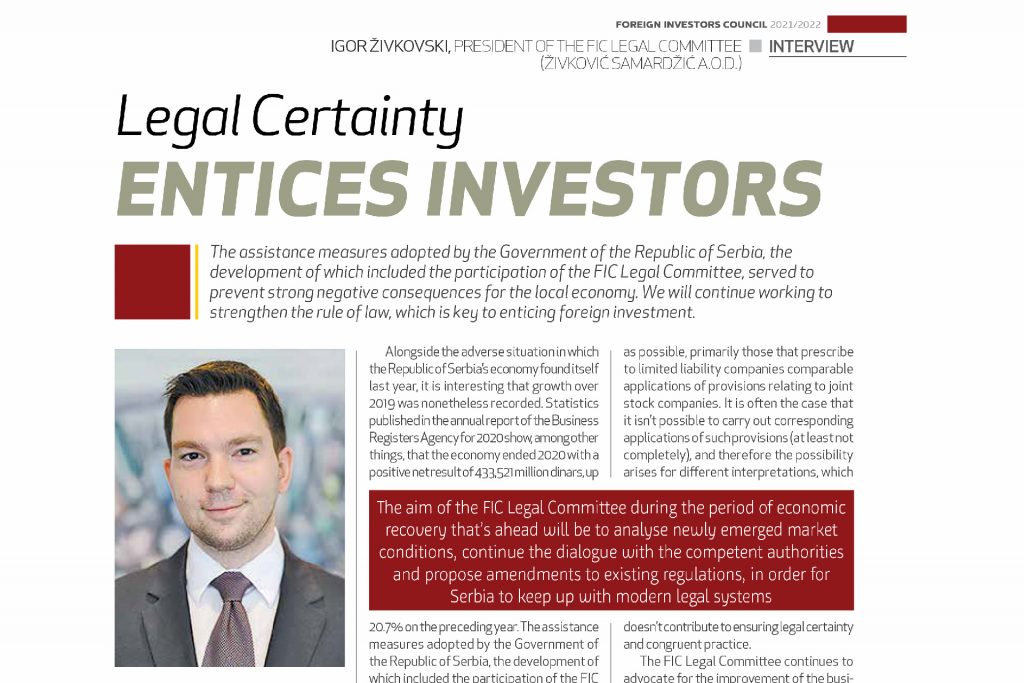 Igor Živkovski, Živković Samardžić Corporate and M&A Partner, has been interviewed for the FIC Guide 2021/2022 about some of the most important topics that came into focus of the FIC Legal Committee since the outbreak of the COVID-19 Pandemic. This year's edition of the Guide gathered opinions of FIC members, leaders of top international companies, the highest government officials and stakeholders.
In the interview, Igor stated that the assistance measures adopted by the Government of the Republic of Serbia, the development of which included the participation of the FIC Legal Committee, served to prevent strong negative consequences for the local economy.
When it comes to the rule of law, Igor underlined that since this question is key to enticing foreign investment, the FIC Legal Committee considers the eliminating of problems in the applying of two key laws – the Law on Foreign Exchange Operations and the Law on the Prevention of Money Laundering and the Financing of Terrorism. In that respect, the FIC Legal Committee have contributed to bringing contentious issues closer to the relevant authorities, and hopefully they will contribute to the amending of these two laws to enable them to achieve their purpose and raise legal certainty to a higher level.
The aim of the FIC Legal Committee during the period of economic recovery that's ahead will be to analyse newly emerged market conditions, continue the dialogue with the competent authorities and propose amendments to existing regulations, so that Serbia could keep up with modern legal systems.
Igor concluded that the FIC Legal Committee continues to advocate for the improvement of the business climate and to identify, as one of its main priorities, the unification of the practice of state bodies, because it is only through uniform practice and the full rule of law that it is possible to attract a larger number of foreign investments.
To read the full article in the Serbian language click here and for English version click here.
The Foreign Investors Council (FIC) was established in 2002 as a promoter of the investment conducive business environment and solid business ethics and is currently connecting more than 120 members with investments of over EUR 35 billion and more than 100,000 employees in Serbia. Živković Samardžić, one of Serbia's leading full-service independent law firms, is a proud member of the FIC. Igor Živkovski, Živković Samardžić Corporate and M&A Partner, is the FIC's Legal Committee President.