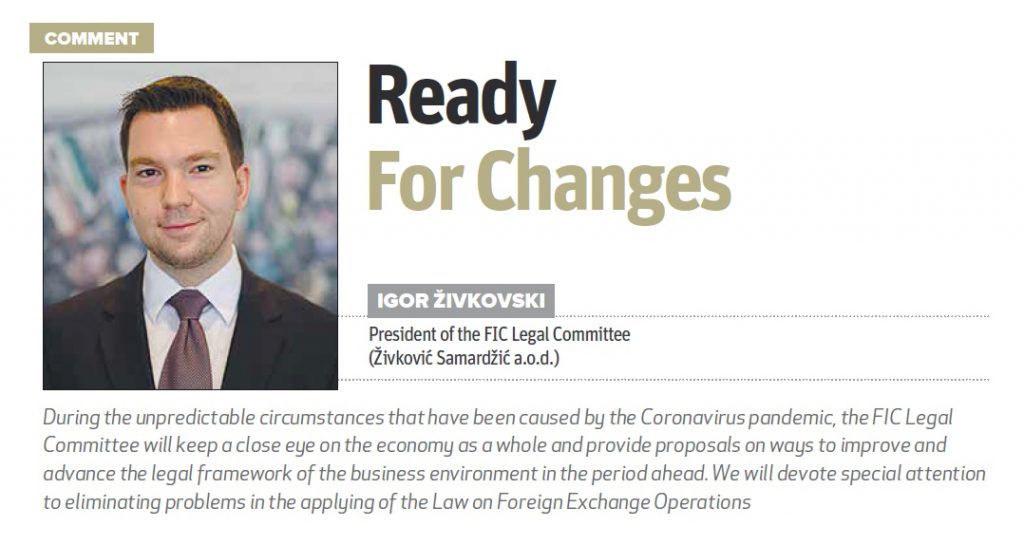 Igor Živkovski, Živković Samardžić Corporate and M&A Partner, has been interviewed for the FIC Guide 2020/2021 about the importance of dialogue and communication between the Government of the Republic of Serbia and the business sector during the Coronavirus pandemic, as well as about the significant role of digitalisation and e-commerce in the current environment. This year's edition of the Guide gathered opinions of FIC members, leaders of top international companies, the highest government officials and stakeholders.
In the interview, Igor stated that the pandemic caused by the COVID-19 virus has left its mark on all aspects of our lives, and that the business community is no exception. During the COVID-19 crisis, the Foreign Investors Council took on an active role in providing support to its members, as well as in proposing urgent economic measures to the Government of the Republic of Serbia aimed at mitigating the negative impact of the pandemic on the private sector, with the majority of those proposals having been included in the Government's plan.
When it comes to the rule of law, Igor underlined that the Legal Committee considers the eliminating of problems in applying the Law on Foreign Exchange Operations as one of the key topics in the period ahead and that it will propose amendments to foreign exchange regulations and advocate for the unifying of application practises on the part of the competent authorities.
Speaking of judiciary, he said that digitisation in the judicial system could contribute significantly to the effective resolution of disputes, while the use of machine learning and artificial intelligence would increase the efficiency of the legal system whilst ensuring the protection of human rights and freedoms. Further digitalisation in all areas of business is essential in order to keep pace with the growing use and needs of the digital ecosystem and e-commerce.
To read the full article in the Serbian language click here and for English version click here.
The Foreign Investors Council (FIC) was established in 2002 as a promoter of the investment conducive business environment and solid business ethics and is currently connecting more than 120 members with investments of over EUR 35 billion and more than 100,000 employees in Serbia. Živković Samardžić, one of Serbia's leading full-service independent law firms, is a proud member of the FIC. Igor Živkovski, Živković Samardžić Corporate and M&A Partner, is the FIC's Legal Committee President.