Igor Živkovski, Živković Samardžić Corporate and M&A Partner has been interviewed for the FIC Guide 2019/2020 on the topic of the overall progress in the area of the rule of law, including regulations and practices that are examples of good synergies between government and the business sector in amending regulations, and their impact on the business environment in Serbia. This year's edition of the Guide gathered opinions of FIC members, leaders of top international companies, the highest government officials and stakeholders.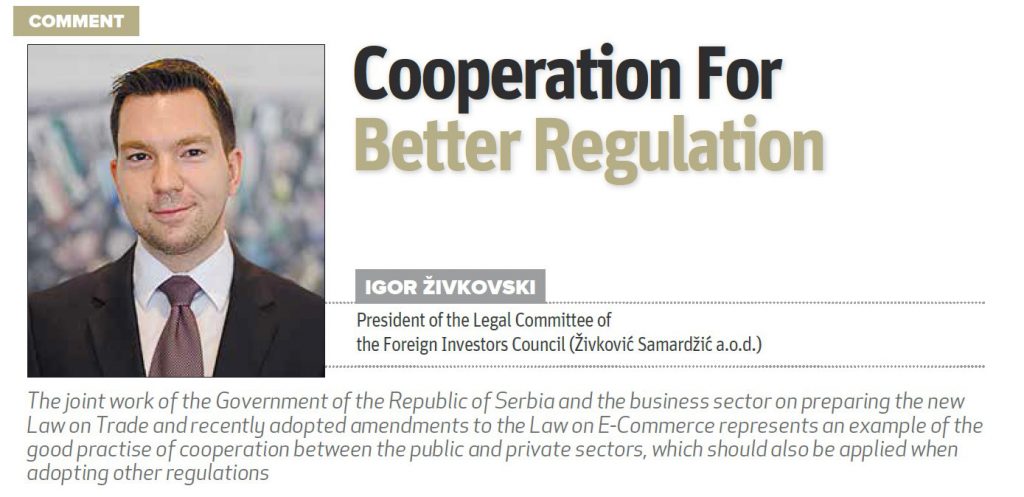 In the interview, Igor stated that when it comes to the rule of law in fields that are of particular significance to the business community, it is important to point out the obvious aspiration of the legislator to further strengthen the rule of law by amending regulations governing bankruptcy and enforcement, labour relations, tax procedures and other areas of vital importance to the economy. Such activities undertaken by legislators result in faster economic growth and the further development of a positive business climate.
When it comes to the rule of law, Igor finds that the development of a system that's founded on the rule of law will create a predictable business environment, as well as a more efficient judicial system. To this end, it is necessary to improve the level of implementation and compliance with laws.
Speaking of judiciary, he said that a lack of adequate knowledge and specialisation among judges, especially in more complex economic and financial disputes, is an area requiring particular attention, via amendments to procedural laws and adapting to the contemporary form of doing business.
To read the full article in the Serbian language click here and for English version click here.
The Foreign Investors Council (FIC) was established in 2002 as a promoter of the investment conducive business environment and solid business ethics and is currently connecting more than 120 members with investments of over EUR 33 billion and more than 100,000 employees in Serbia. Živković Samardžić, one of Serbia's leading full-service independent law firms, is a proud member of the FIC. Igor Živkovski, Živković Samardžić Corporate and M&A Partner, is the FIC's Legal Committee President.